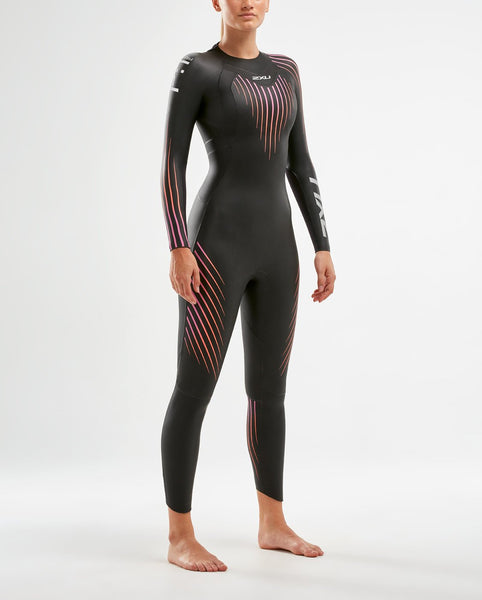 2XU Propel Wetsuit Women's
An all-round wetsuit that delivers many of the key technical benefits of the elite tier of the 2XU range. The inclusion of the rollbar, floating zip, SCS coating and 39 cell buoyancy paneling make the P:1 Propel a top-value wetsuit that will deliver the power needed to surpass the competition. 
P:1 PROPEL FEATURES
• SCS COATING (SUPER COMPOSITE SKIN)
• 39 CELL FRONT BUOYANCY PANEL
• FLOATING ZIP PANEL
• 520% STRETCH (INTERNAL)
• ROLLBAR
• 2 YEAR WARRANTY

 
Size Chart
How should my 2XU Wetsuit fit?
Your suit should fit adequately in terms of both your height and weight. In the case that you fit into more than one size, you should opt for the smaller size. While 2XU Wetsuits come in both men's and women's styles, some females prefer the fit of a men's suit. This is fine. On the arms, your wetsuit sleeves should finish at least one finger gap in distance from your wrist bone. This will ensure the suit is sitting high enough and does not pull on the shoulders. In the legs, the wetsuit legs should finish 3/4 of the way down your shin. This will ensure the suit is sitting high into the crutch. If sitting too low, the suit will pull on the top of the shoulders.
Around the neck, the wetsuit should be firm but not to the point that breathing is restricted. If the neck bunches at all, the suit is too big. The neck is the number one area water can enter the suit, so it needs to be secure.
For specific sizing, please refer to our Size Guide below.
| SIZE | HEIGHT (CM) | HEIGHT (FT) | WEIGHT (KG) | WEIGHT (LB) |
| --- | --- | --- | --- | --- |
| XS (Extra Small) | 160 - 175 | 5'3" - 5'9" | 58 - 68 | 128 - 150 |
| S (Small) | 160 - 175 | 5'3" - 5'9" | 63 - 70 | 139 - 154 |
| ST (Small Tall) | 174 - 182 | 5'9" - 6'0" | 64 - 72 | 141 - 159 |
| SM (Small Medium) | 165 - 175 | 5'5" - 5'10" | 68 - 75 | 150 - 165 |
| M (Medium) | 170 - 184 | 5'7" - 6'0" | 72 - 80 | 159 - 176 |
| MT (Medium Tall) | 178 - 193 | 5'10" - 6'4" | 74 - 83 | 163 - 183 |
| MS (Medium Solid) | 168 - 175 | 5'5" - 5'9" | 78 - 88 | 172 - 194 |
| L (Large) | 175 - 188 | 5'9" - 6'2" | 85 - 94 | 187 - 207 |
| LT (Large Tall) | 180 - 195 | 5'11" - 6'5" | 84 - 94 | 185 - 207 |
| XL (X Large) | 180 - 200 | 5'11" - 6'7" | 92 - 110 | 203 - 243 |
| XXL (XX Large) | 180 - 210 | 5'11" - 6'11" | 105 - 150 | 231 - 265 |
| XXXL (XXX Large) | 180 - 210 | 5'11" - 6'11" | 120 - 135 | 265 - 298 |