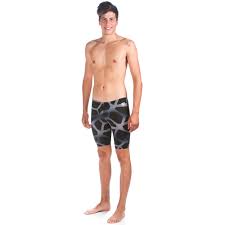 Arena Mens Spider Jammer
Update your training kit with this eye-catching exclusive print. Our Spider jammers for men are a bold one-off style with an allover molecule motif and an ombré effect. Built to streamline your body in a hydrodynamic shape, this men's swimsuit is made for pool practice and intensive swimming.

Fabric
Ultra-chlorine resistant for long-lasting performance, quick-drying and form-fitting, MaxLife is a powerful swimwear fabric. Its superior shape retention ensures a swimsuit that performs like new, and the UPF 50+ protection makes it a smart choice for swimming indoors and outdoors.

Design + Fit
We design premier men's training swimwear for drag free swimming. These jammers measure 45 cm long, supporting you from mid-waist to just above the knee. Finished with front lining for added comfort.