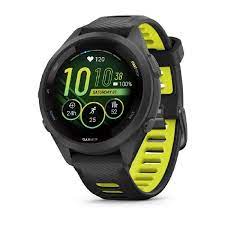 Garmin Forerunner® 265S
Train brilliantly with the Forerunner 265S 42 MM GPS running smartwatch. Its colorful AMOLED touchscreen display stands out while the training readiness feature — which tells you when you're primed for a productive  session — helps you crush your goals. Wake up to your morning report with HRV status to see health insights alongside an overview of sleep, recovery and training outlook¹. Plan your race strategy with the race widget, which enables personalized daily suggested workouts that adapt to performance, recovery, the race you're running and its course. Get ready to make the most of every run with wrist-based running power and
multi-band GPS. And when you want to switch it up with cross training, choose from more than 30 activity profiles, including triathlon, cycling, swimming and more. Get a more complete picture of your health, not just a glimpse, from your Forerunner 265S with up to 15 days of battery life in smartwatch mode.
NEW Features in the Garmin Forerunner 265S (vs.
 

Forerunner 255S)
AMOLED TOUCHSCREEN DISPLAY
Brilliant AMOLED touchscreen display with traditional button controls.
TRAINING READINESS
Training readiness score is based on sleep quality, recovery, training load and HRV status to determine if you're primed to go hard and get the most out of your workout¹.
WRIST-BASED RUNNING DYNAMICS
This feature provides wrist-based advanced running dynamics, including running power, ground contact time balance, stride length and more. Get even more accurate data with an additional accessory (HRM or pod).
WRIST-BASED RUNNING DYNAMICS
This smartwatch measures crucial running metrics such as cadence, stride length, ground contact time and more.
MORNING REPORT
Receive an overview of your sleep¹ and training outlook as soon as you wake up — alongside HRV status and weather. You can even customize your report to show you what you want to see.
MUSIC
Download songs and playlists from your Spotify, Deezer or Amazon Music accounts for phone-free listening.
PLUS, the same great features as previous watches:
RACE WIDGET
Get ready for your next race — whether it's a 10K or marathon — with training tips, personalized daily suggested workouts and completion time predictions based on course details, weather and performance.
DAILY SUGGESTED WORKOUTS
Get workouts made for you. They adapt after every run to match your performance and recovery and take into account the races coming up in your Garmin Connect™ calendar.
TRAINING STATUS
Using indicators such as HRV status, your recent exercise history and performance, get an easy insight into your overall effort — and whether you're training productively, peaking or strained.
HRV STATUS
Gain a deeper understanding of your overall health, training and recovery through heart rate variability while you sleep, based on technology developed by our Firstbeat Analytics™ team.
GARMIN COACH
Free adaptive 5K, 10K and half marathon training plans from expert coaches.
RECOVERY TIME
Know how long you need to recover before your next high-effort workout based on your latest training.
COURSES
Create or find existing courses in the Garmin Connect app, or sync from your favorite third party platforms.
SLEEP MONITORING AND SLEEP SCORE
Understand how your body's recovering with sleep score, breakdown of your sleep stages and detailed insights for improved sleep quality.
BODY BATTERY™ ENERGY MONITORING
Track your body's energy levels to find the best times for activity and rest¹.
RACE PREDICTOR
Get an estimate of what your pace could be for a 5K, 10K, half marathon and marathon.
WOMEN'S HEALTH TRACKING
Track and log your menstrual cycle or pregnancy to get exercise and nutrition education.
WRIST-BASED HEART RATE
The watch constantly samples your heart rate to help you gauge how hard you work during activities¹.
ACUTE LOAD
Compare your recent training load to the optimal range to help improve your fitness.
TRAINING EFFECT
See how your workouts influence your endurance, speed and power.
PERFORMANCE CONDITION
While you run, get an analysis of your pace and heart rate for a real-time assessment of your current ability to perform.
VO2 MAX
See your current fitness level and track changes over time to set goals, evaluate progress and more.
INTENSITY MINUTES
Track your moderate and vigorous activity minutes.
HEALTH SNAPSHOT
Log a 2-minute session to record key health stats, then generate a report to share with your healthcare provider.
STRESS TRACKING
Find out if you're having a calm, balanced or stressful day.
PULSE OX SENSOR
Track your blood oxygen saturation while you're awake or asleep².
AUDIO PROMPTS
Get alerts to know how you're performing and even be guided through workouts.
CROSS TRAINING
Forerunner 265S is preloaded with free HIIT, strength, cardio, yoga and Pilates workouts so you can switch up how you sweat.
SATIQ™ TECHNOLOGY AND MULTI-BAND GPS
Get superior positioning accuracy and optimized battery life.
PACEPRO™ FEATURE
Plan race-day strategy with GPS-based pace guidance for a selected course or distance.
BUILT-IN SPORTS APPS
Tap in to 30+ built-in activities, including cycling, open-water swimming, strength training and more.
TRACK RUNNING
Record accurate lap distances and see your distances in meters.
TRIATHLON AND MULTI-SPORT PROFILES
Switch between sports with one press by using built-in profiles, or you can create your own.
SAFETY AND TRACKING
If you feel unsafe or if your watch senses that an incident occurred, your watch will send a message with your live location3.
GARMIN PAY™ CONTACTLESS PAYMENTS
Breeze through checkout lines or transit systems with participating providers.
SMART NOTIFICATIONS
Receive emails, texts and alerts on your watch when paired with your iPhone® or Android™ smartphone.
LIVETRACK
Friends and family can follow your real-time location³ and view pre-planned courses.
GARMIN CONNECT APP
See your health and fitness information, connect with friends and more — in this free, zero-subscription app.
CONNECT IQ™ STORE
Add watch faces, data fields and apps to your paired watch.
¹ Activity tracking accuracy
² This is not a medical device and is not intended for use in the diagnosis or monitoring of any medical condition; see Garmin.com/ataccuracy. Pulse Ox not available in all countries.
³When paired with your compatible smartphone. For safety and tracking feature requirements and limitations, see Garmin.com/safety.