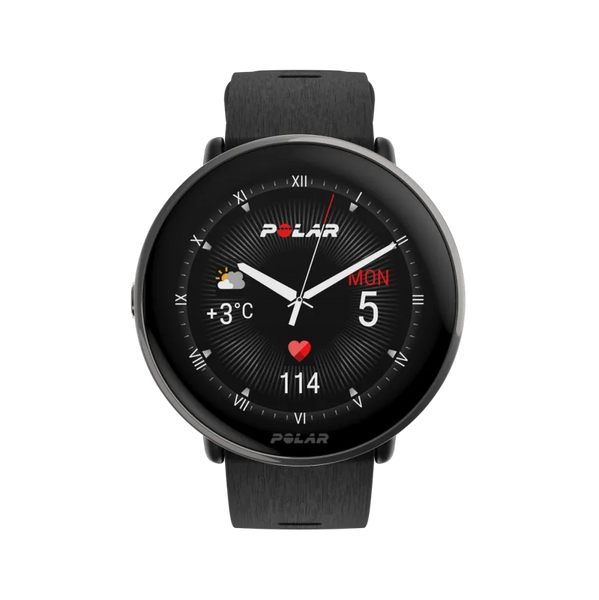 Polar Ignite 3 Titanium
Product description
Polar Ignite 3 Titanium Watch
Polar Ignite 3 Titanium is a stylish fitness & wellness watch that helps you live a more energized life. It tracks your sleep, activity, and heart rate to provide guidance that's tailored to your body and lifestyle. Polar Ignite 3 brings premium design, materials, and quality towards those looking for a more durable, fashionable, everyday style of watch.

- Titanium protection. Unbreakable day and night. Minimalist design. NEW!
- Always-on, high-resolution AMOLED touchscreen display: view the information you need in full color and with excellent visibility.
- Customizable widgets: choose the information you want to see on the watch display and quickly access the features you use most.
- Wrist-based heart rate recording: Polar Precision Prime™ technology ensures maximum accuracy and reliability.
- 24/7 activity: records all your daily steps, calories burned and daily activity goal.
· Nightly skin temperature: automatic measurement every 5 minutes. The variation of the skin temperature is an indicator of the internal rhythm and the health condition. NEW!
- Highly accurate dual GPS: wherever you are, measure the distance and speed of your workouts.
- Complete sleep analysis and SleepWise™*: tips to improve focus during the day. Get a complete analysis of your body´s nightly recovery every morning and know your energy levels to face the day ahead.
- FitSpark™: Get personalized tips and daily training suggestions based on your current fitness level and disposition.
· Work-rest guide: analyzes the user's heart rate during work and rest phases thus giving personalized guidance on how to have optimal moments of rest during high-intensity training. NEW!
- Voice guidance: get all the important information from your workout or guidance during personalized Fitspark™ workouts via voice prompts (headphones required).
- Weekly training summary: see how much and at what intensities you have trained during the week.
- Energy sources: indicate how much you burn in each session differentiating between carbs, proteins and fat.
- Guided breathing exercises: relax with the Serene™ guided breathing exercises. They will help you relieve stress and help you fall asleep.
- Swimming metrics: indoor and open water.
- Mobile notifications: stay always connected and visualize on your watch screen all those messages that appear on your mobile (whatsapps, messages, calls...).
- Weather: be prepared for weather changes with information and weather forecast for up to two days (temperature, rain probability , humidity, wind speed...).
- Music controls: browse your playlist and adjust the volume directly on your watch.
- Interchangeable 20mm wristbands: combine different looks depending on the occasion. Choose from different sizes and materials.
- Ultra-lightweight: 36 grams
- Size: 43mm*9.5mm
- Water resistant: WR30
- Size: S-L (135-220mm)


Do you know all the features of Polar Ignite 3 Titanium Watch? At bikeinn, we select bike items that are customized for different activities and sports. If you are looking for Electronics instead, take a look at our complete Watches collection. All the brands we sell like Polar are all linked to the sport or activity they represent. All of our passion brands are tested in-house by our team of bike experts!