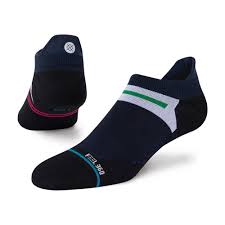 Stance Interim Tab Running Socks
Featuring Infiknit™ and Feel360™ technology, the Stance Interim Tab Running Socks provide long-lasting durability and will keep your feet comfortable and fresh no matter how hard you push yourself when training. Featuring a custom blend of moisture-wicking anti-odour fibres and a network of mesh vents that wraps from the top of the foot to the arch, these socks will keep you cool, dry and fresh while a seamless toe closure eliminates any possible irritation. Finally, performance cushioning alongside anatomically correct left/right designs and tab construction for an easy on/off.
Care Instructions
Machine wash at 40°C. Avoid bleaching or ironing. Socks will last longer if you keep them out of the dryer.